Design
At Stubbs, we consider design to be the soul of every digital creation. We care and focus on understanding our client's positioning and preferences to craft visually captivating and user-centric designs. By leveraging the power of Figma, our design services blend creativity, research, and collaboration, ensuring that the final product aligns with your business objectives. With a rich portfolio featuring over 50 meticulously crafted designs, we've honed our skills to provide you with design services that go beyond aesthetics.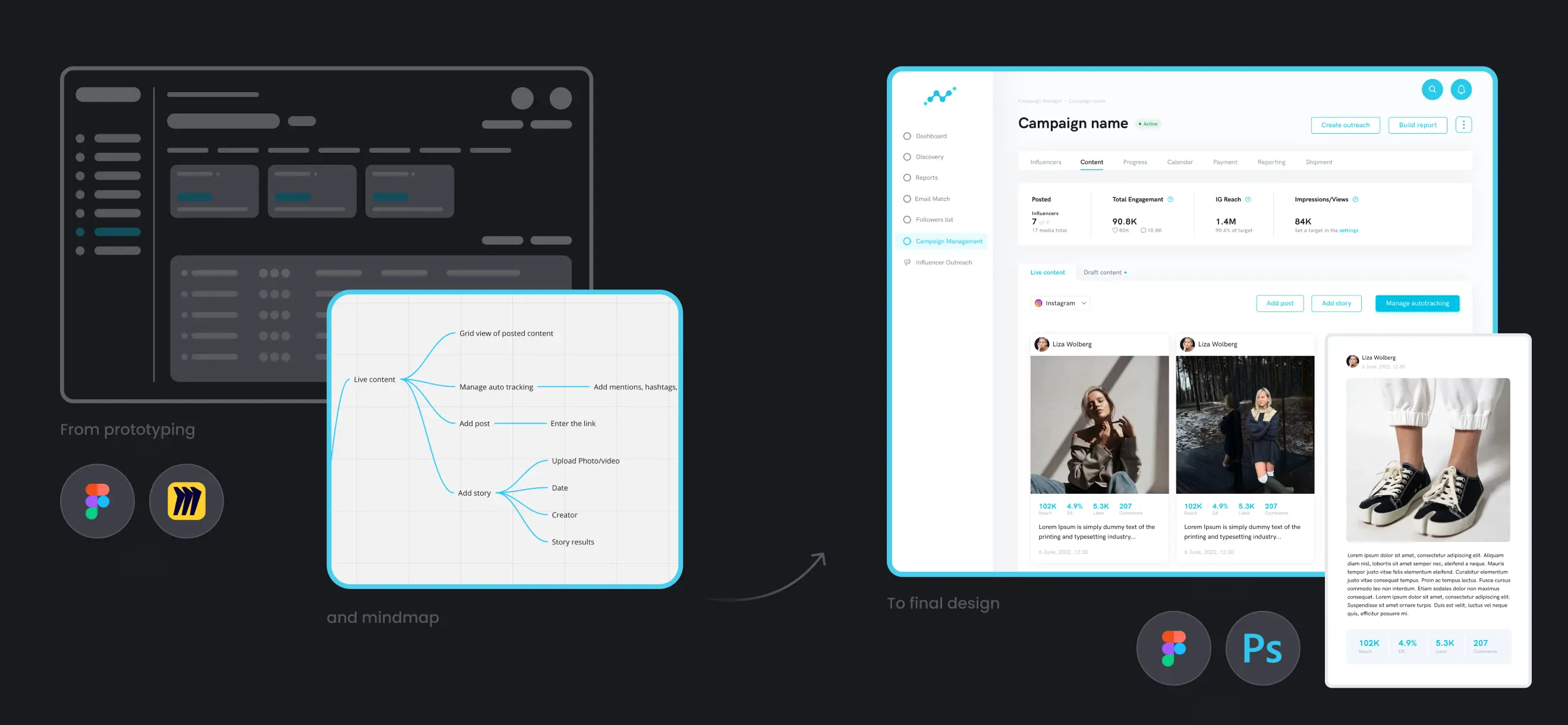 Stages of work
Discovery phase
In the discovery phase, we lay the groundwork for success. We define requirements, conduct competitor analysis, and identify differentiators that set your brand apart. This phase sets the stage for a design that's not just visually appealing but strategically aligned with your goals.
Mindmap
Creating a detailed mind map allows us to outline all the flows and interactions the platform will have. This process helps us visualize the user journey and ensure that every step is intuitive and efficient, resulting in a seamless user experience.
Clickable wireframes
We develop clickable wireframes, allowing you to test the design's structure and functionality before implementation. This stage ensures that the final product aligns perfectly with your vision.
Moodboard
Moodboards are our canvas for setting the design's tone and visual direction. We curate mood boards that showcase various design concepts, styles, and color schemes, giving you a glimpse of how the app could look and feel. These boards provide a tangible reference point for the aesthetic journey ahead.
Design concept
Our design concept phase transforms ideas into reality. This process provides you with a concrete example of how your app will look and feel with the chosen style, offering a clear understanding of the design direction.
Design and adaptives
We bring the selected concept to life, creating a visually stunning interface that integrates with the platform's functionality. We pay meticulous attention to every detail, ensuring that the design speaks volumes about your brand and captivates your audience. Our designer adapts the design to different screen resolutions, ensuring a consistent and engaging experience across all devices - from desktops to smartphones.
Our projects
01/19
View all
Why choose us?
01
We are aware of technologies and design trends
02
We aim to collaborate and help your business grow
03
We value transparency and communication
We'd love to collaborate
Tell us about your project and goals
By sending this form I confirm that have read and accept
Privacy Policy